About
The Conseil québécois des arts médiatiques (CQAM) was founded on June 19th 1998. CQAM is the only media arts advocacy organisation in Quebec welcoming professional independent artists*, cultural workers, emerging artists and artist-run centres devoted to media arts as members.
"Media arts" denotes the genre of independent artistic practices linked to information and communications technologies, in which research and experimentation are driven by formal innovation. The media arts comprise two main fields: the cinematic and digital arts, both of which may take the form of screenings, installations and/or performances.
* An independent artist maintains complete artistic and editorial control over their work through all stages of production, including the final version and receives the majority of all fees and royalties derived from the broadcast, presentation or sale of their work.
CQAM's mission is to ensure the defence, the promotion and the representation of independent professional media artists, cultural workers, centres and collectives dedicated to Media Arts through advocacy initiatives on all government levels and in all arenas, as well as any other activities required for the development of the Media Arts practice.
Representation
The CQAM seeks to improve socio-economic and working conditions for the media arts community and develop the field.
Development
The CQAM works to develop tools and resources to support and enhance research, professional development and independent creation, production, dissemination and distribution, with a view to ensuring sustainable development in the media arts.
Positioning/outreach
The CQAM works to raise awareness of media artists and their work, ensure their recognition, improve their visibility and advance their interests with decision-making bodies.
Services
The CQAM's services and activities contribute to its members' development.
The CQAM upholds the following values:
recognizing the unique role of the artist and the contribution of art to society;
collective action; teamwork and solidarity;
democratic processes that embrace differing perspectives and foster an open, inclusive approach; and receptiveness and cooperation with regard to consolidating and developing media arts practices.
During the final plenary of the 1996 Independent Film and Video Forum, a motion to create a permanent forum to further advocacy actions on behalf of independent film and video artists was passed unanimously. Discussions went on for two years without tangible results. Finally, the Quebec caucus of Independent Media Arts Alliance, then known as the Independent Film and Video Alliance, decided to survey Quebec artist-run centres to see if there was sufficient interest to create an association in Quebec. Since the response was overwhelmingly favorable, several media arts centres worked together to found Conseil québécois des arts médiatiques.
Incorporated on June 19, 1998, from the very start CQAM united both individuals and centres in the Quebec media arts community to work toward the common goal of improving conditions in the sector through collective action.
In accordance with its mission and following an annual period of strategic planning, CQAM initiates and executes a variety of actions and activities, as well as develops a number of support services that take into account the needs of its community, the cultural, social, economic and political environment and the technological context within which media arts evolves. CQAM is always prepared to engage in advocacy campaigns as specific issues arise.
CQAM may use all or some of the following actions to fulfill its mission:
Forums, studies, sector-based discussions and research;
Critical analyses of government arts and culture programs and policies impacting media arts;
Submission and presentation of sector-specific briefs aimed at improving and/or revising programs and policies affecting media arts in particular and arts and culture in general;
Advocacy campaigns aimed at improving programs and policies affecting media arts in particular and arts & culture in general, as well as the social-economic conditions of its community;
Participation in sector-based advisory and steering committees;
Production and dissemination of sector-based e-bulletins and professional information letters;
Sector-based information and training sessions, production of sector-based competency / management tools and activities geared toward emerging media artists;
Members' services including counsel and support and discount programs;
Networking and outreach to promote the media arts practice.
Sylvie Raymond, Interim Director
Martine Frossard, Assistant Director
Maude Thibault Morin, Professional Development Coordinator
Isabelle L'Heureux, Digital cultural development agent
Stéphanie Lagueux, Webmaster
Board of Directors
Éric Desmarais (Sporobole), President
François Toussaint (Prim), Vice-president
Nelly-Ève Rajotte (artiste), Secretary
Simon Croz (Paraloeil), Administrator
Alicia Turgeon (Eastern Bloc), Treasurer
Albéric Aurtenèche (filmmaker), Administrator
Joëlle Arseneau (filmmaker), Administrator
Submit your application to become an administrator.
Strategic Committee
in alphabetical order
President of the committee : Éric Desmarais (Sporobole)
Robin Dupuis (Perte de Signal)
François Toussaint (Prim)
Cinematographic Arts Committee
in alphabetical order
President of the committee : Albéric Aurtenèche (artist)
Annick Nantel (Films de l'autre)
Daniel Karolewicz
Joëlle Arseneau (filmmaker)
Leïla Oulmi (Main Film)
Digital Arts Committee
in alphabetical order
President of the committee : Alicia Turgeon (Eastern Bloc)
Sofian Audry (artist)
Esther Bourdages (artist)
Ariane Plante (artist/curator)
CQAM adopted several arts' policies, guides and revised its bylaws in an ongoing process to ensure the highest standards of governance within the organisation and to state its position on several issues impacting the media arts community. PDF documents, listed below and available in French only, can be downloaded.
Bylaws
Policies
Governance
Politique du personnel (en révision)
The cinematic arts are open to artists working in the following fields:
Art Film/Video
An appropriation of the cinematic and aesthetic discourse that may be expressed through various film or video genres.
Experimental Film/Video
Practices involving the innovative use of film, video and/or electronic media technologies.
The media arts category is open to artists working in one or more of the following fields:
Electronic, Audio and Video Art
Designing and producing electronic circuits as well as recording, producing, reproducing, processing and/or generating sound and video.
Robotic and Electromechanical Arts
Using robotic technologies to produce artworks that may or may not evolve in response to their surroundings, as well as customized mechanisms.
Internet and Networked Arts
Transmitting data of various types over a network and/or producing hypertext.
Software Arts
Creating and developing custom software; also includes any work whose primary medium is code.
CQAM would like to warmly thank its partners for the support of its activities: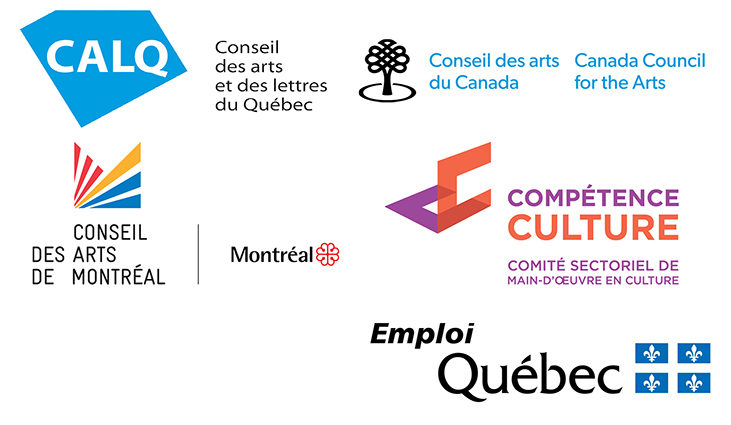 CQAM enters into partnerships with festivals and events in media arts in Quebec. In the form of service exchanges, we offer visibility (web publishing, social networks, newsletters, etc.) in exchange for discounts granted to our members. As organizations faithful to this exchange, which is beneficial to our members and appreciated by them, we count the:
The insurance company ASSURART offers individual and professional discounts (tour, work, transportation, etc.) to CQAM members.
CQAM is involved in the following associations and organizations, either as a member or as an advisor on a steering committee: